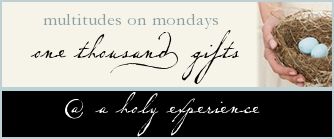 What a busy two weeks. My heart is overflowing with thanks for so much.

61. feeling at home
62. green on the trees that fill our backyard
63. jets in my bathtub (thank you emma for reminding me how awesome they are.)
64. weekend getaways with friends
65. feeling the weight of God's glory in a worship service
66. my own closet
67. baby showers and the new life they celebrate
68. the iris and hostas Chad transplanted for me on Saturday (what a treat to pull in the driveway and see him planting my flowers.)
69. lavender scented fabric softener
70. sunrise

We are so thankful life is falling back into our normal schedule! We are counting down the days of school and dreaming about summer vacation. It is going to be good. We already see things to be grateful for there. :)

I'm off to spend some time with "Hannah's One Wish" preparing for my 8th grader girls week one of this study. And then....

I'm FINALLY hanging pictures in our bedroom. (That big room is beginning to feel like a hospital with all the white!)

Thank you for stopping by, you have been prayed for today!