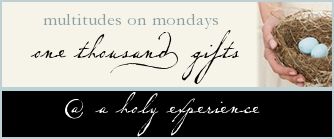 It's Monday again! (Well, it's actually Sunday evening, but we have a busy couple of days so I'm preparing an automatic post for Monday.)

I received Ann's book in the mail from a dear Blogging friend last week! I am in the middle of another book, but I cracked it open last night and was quickly taken.

So, this book begins my list for the week.

42. One Thousand Gifts!!
43. Our new pastor and his family.
44. Friends who "get" you and are okay to just pray w/out needing all the details.
45. Birds nests
46. New journals. (the smell and cracking sound before they are broken in.)
47. Emma realizing today God is answering a prayer she's been praying all school year.
48. Two precious nieces that talk my ear off on the phone.
48. Hershey's Caramel creamer (international delight)
49. Monogrammed items
50. God's gift at 3:00 AM on March 20. Will never forget it. NEVER.EVER.
51. Nancy Drew
52. Bev Brandon- I'm praying one day we can worship in the same church. She oozes God.


I pray that this week, you realize how much our God loves you. You are so precious to him.

Thanks so much for stopping in!

s.